The computing industry is already awash in condescension and negativity, and it's getting worse. Yes, I know it's not a new phenomenon, but I've been around long enough to be sure of the trend. I've been blogging for over a decade, I was on Usenet even longer than that before, and I was on other forums even before that. I know all about operating-system wars, language wars, editor wars, license wars, and their ilk. I've fought many of those wars myself. Still, things seem to be getting worse. Practically no technical news nowadays comes unaccompanied by a chorus of hatred from those who prefer alternatives. Half the time I find out about something that's really pretty cool only because I see the bitching about it. How sad is that?
The thing is, it really doesn't matter why people act this way. Yes, some people are just basically spiteful or insecure. Others might think they're acting from more noble motives, such as bursting a hype bubble or squashing an idea they believe is truly dangerous. Half of the articles on this site are based in such motivations, so I'm by no means claiming innocence. The problem is that even the best-motivated snark still contributes to the generally unpleasant atmosphere. Contrary to popular belief, we techies are social animals. We have our own equivalent of the Overton Window. Every Linus eruption or similar event from a perceived leader shifts that window toward a higher spleen-to-brain ratio. Others emulate that example, and the phenomenon reinforces itself. Those of us who are older, who are leaders, who find ourselves quoted often, owe it to the community not to keep shifting that window in the wrong direction. That's not being "honest" or "blunt" or "clear" either, if your honesty/bluntness/clarity is only apparent when your comments are negative. Real life is not one-sided. If your commentary is, then you're not being any of those things. You're just being part of the problem.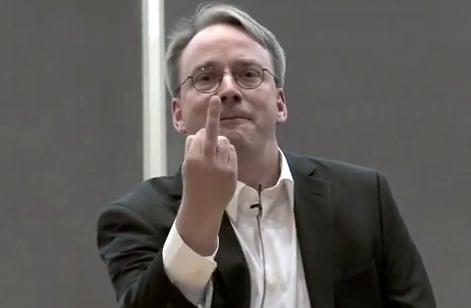 No one of us caused this and no one of us can fix it. However, we can each try to do better. That's my New Year's resolution: to start taking the high road and giving people the benefit of the doubt just a bit more often. Sure, some people might get besotted with a particular idea or technology that I think is inferior, but that doesn't make them stupid or bad. Some people might get carried away with their praise for a company or its products/people, but that doesn't make them fanbois or shills. Some people are all of those things, and I'm sure I'll still let slip the dogs of war from time to time when the occasion warrants it, but I'll at least try to adopt a doctrine of no first strikes and proportional response instead of the ever escalating verbal violence that is now commonplace. Would anyone else like to give it a try?